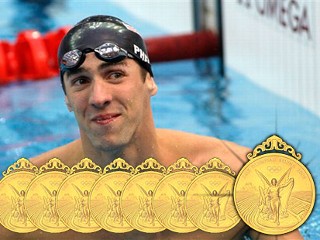 He's done it again. Another gold and another world record. Michael Phelps' gold medal hunt in Beijing ends as the swimming superstar leaves the Water Cube eight golds heavier, breaking Mark Spitz's record of seven gold medals in one Olympics.
Phelps already made history by matching Spitz's seven golds -- a feat previously achieved only once in the 112-year history of the modern Olympic Games -- and earning a $1 million bonus from Speedo for doing it. Now he's one-upped Spitz's record count, cementing his place as one of the best athletes of all time.
Superman. Magical. The King. The Dolphin. The Fish. The Phenomenon. These are just some of the words being used to describe the face of the XXIX Summer Olympics in Beijing, Michael Phelps. 08-08-08 marked the beginning of the Beijing Olympics, and it will forever be remembered as Phelps' lucky number.
Phelps won six golds in Athens four years ago, bringing his current career golds to the whopping number of 14. As if winning gold medals wasn't impressive enough, Phelps broke the world record in seven of the eight events he swam in Beijing, four of which he previously held.